Flirt4free is a cam 2 cam site that connects cam girls & viewers for lewd webcam shows. It's a popular site but how does it compare. Read the Flirt4free.com review.
Despite the popularity of their sexy live cam shows, Flirt4Free isn't just a cam site. It's practically a one-stop live porn paradise. You can find everything from X-rated videos to your next real-life hookup, all on a stylish interface that's just as easy on the eyes.
There are downsides though and our Flirt4Free.com review covers all aspects from the costs to what exactly this cam 2 cam site offers. Let's examine it together below.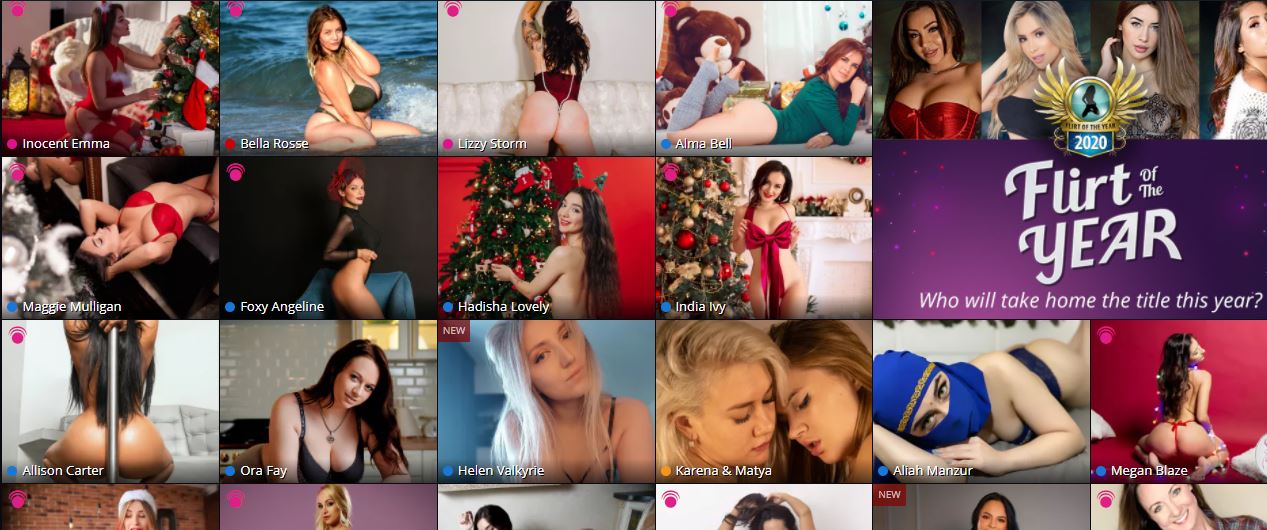 Flirt4Free Features
Flirt4Free hosts female, male, trans, and couples' cams.
Promo: In case you needed an extra reason to get a Private show from one of Flirt4Free's sexy cam models, or "Flirts", the site runs special contests and awards girls with extra cash when they earn a set number of credits during the contest window.
Fetish: Let's get freaky with Flirt4Free's fetish models! The site has a huge fetish community and tons of models to suit particular tastes. Scroll through Flirt4Free's "Fetish" category to see which kink queens are online.
Forums: You can find tons of forums on a variety of topics on Flirt4Free, ranging from guides on the site's many features to the fun stuff, like info on the platform's most popular Flirts.
Flirt of the Year: Thousands of models vy for the coveted title of "Flirt of the Year," an annual contest for who can get the most credits on the whole site. If you think your fave deserves the crown (and the accompanying cash prize), then show her with credits.
Calendar: Whether you're new to the site or just looking to mix things up, Flirt4Free's Calendar gives you a first look at scheduled shows for the next two weeks.
Interactive: There are a number of ways to get interactive with the Flirts. Some models have banners on their preview that indicate that they are using tip-activated or device-controlled sex toys.
Pink banners indicate that the model is using a tip-activated toy.
Blue banners mean the model's toy can be controlled by either compatible devices or by tips.
Purple banners mean the fun can go both ways! These models' devices can be controlled by either tips or compatible devices, but they can also control your toys with compatible devices too.
Cam 2 Cam: You can turn on your webcam during certain show types to make your session even more interactive.

Videos: Flirt4Free's video gallery contains hundreds of videos for your viewing pleasure. Some are free, and others can be purchased with credits.
Dating: Want to take your sexual escapades offline? Try localflirtbuddies.com to find your next hot hookup.
Blog: Get the latest scoop on the site's top models and shows on Flirt4Free's dedicated blog. You can even learn important information like site updates and upcoming promotions.
Flirt4Free Prices
Signing up is totally free, and you even get 120 credits for taking the plunge.
VIP Membership: You can upgrade your membership for $39.95 USD/month. Doing so unlocks the following benefits:
Gold chat font
150 free credits/month
100 free credits when you refer a new member
10,000 free credits when you refer a new model
Send/receive pictures from models
Free feature shows
Unlimited access to recorded shows
200 free videos per day
3 free videos of your choice per month
Up to 40% off of Show Pass
5% off all video purchases
Credits make the site go round. Here are all the credit packages Flirt4Free offers on their site:
90 credits for $10.00 USD → $0.11 USD/credit
225 credits for $25.00 USD → $0.11 USD/credit
500 credits for $50.00 USD & 50 FREE credits → $0.09 USD/credit
1000 credits for $100.00 USD & 150 FREE credits → $0.087 USD/credit
2,625 credits for $250.00 USD & 375 FREE credits → $0.083 USD/credit
5,500 credits for $500.00 USD & 1,000 FREE credits → $0.077 USD/credit
Since Flirt4Free is a premium cam site, most of the action happens in Private Shows. There are several ways these can go:
Standard: You can enter a one-on-one private chat with the model of your choice for 30-60 credits/minute.
Premiere: Get a Private show with one of the site's Premiere models for 70-500 credits/minute.
Voyeur: During a Standard or Premiere show between a model and another member, you can initiate voyeur mode to spy on the ongoing session. You will not be able to engage the model or the original customer while you're spying though.
Multi-User: Multiple users can enter a private session with a performer at once. This show type typically runs from 10-120 credits/minute.
Combo: In a combo room, both Standard and Multi-user shows can be initiated. Voyeur mode will be unavailable when the model is in private. Multi-user shows are generally cheaper than
Standard shows, which are 60-120 credits/minute in Combo rooms.
Feature: Interact with real live adult film stars for 30 credits/minute. VIP members get access to these shows for free.
Group Chat: As the name suggests, this type of show requires group participation. The model sets a goal to reach and a "pledge" amount that viewers can tip in order to access the model's special performance, which starts after the goal has been reached.
Offered Shows: Members who like to haggle can negotiate with models for the price of a special private show.
Party Chat: if you're used to the flow of a freemium cam site, Party Chat may be for you. Private shows are disabled when the party starts, but tipping the performer could earn you some special attention.
Video On Demand (VOD): These are recorded videos of your private session, and can cost 40 credits/minute.
Live Cams Mansion: Flirt4Free's "Live Cams Mansion" gives members a behind the scenes look into the Flirts' day-to-day lives. This voyeur project offers a candid look into the mansion's bedrooms, pool, and even the shower. Standard members can access 24 hours of action in the mansion for 25 Credits, while VIP members can view these voyeur cams for free.
Fan Clubs: Joining a model's fan club grants you access to exclusive content that you won't find anywhere else! There are some additional perks that come with becoming a model's fan, of course, such as:
5% Discount on all shows with the model
5% Discount on all VOD with the model
Special colored username when in a model's chat room to indicate that you're a fan
The ability to write on a wall to your model and her members for private conversations
Models set subscription prices for fan clubs, so the prices can vary between performers.

Flirt4Free Review Summary
As a platform, Flirt4Free is downright addictive. They have everything a porn consumer would ever want in one spot, from blogs and forums to live cams and videos.
Flirt4Free even has its own voyeur project. One of my favorite features Flirt4Free has to offer is their VIP membership package, which is one of the most appealing membership packages I have ever seen from a live cams site.
My main criticism, however, is that Flirt4Free is more expensive than other cam sites for users and I am told has a very low payout for its models (only up to 30%), forcing models to raise their prices in order to compensate. This means shows and content can get pretty expensive.
That being said, the platform is incredibly well-designed and definitely one to watch! For an equally luxurious live cams experience, try signing up for Livejasmin.com and chat with thousands of sexy models day or night. LiveJasmin.com tends to have a larger number of models as well.
That said, if money is not a big deal then I really do love the naughty community feel of Flirt4Free.com.

Finally, you may find it interesting as well to peruse all of our cam site reviews. Meanwhile, do remember the best webcam sites are always featured on the home page.